Description
Roberto Coin Ladies Symphony Collection White Rose Yellow Gold Rings
–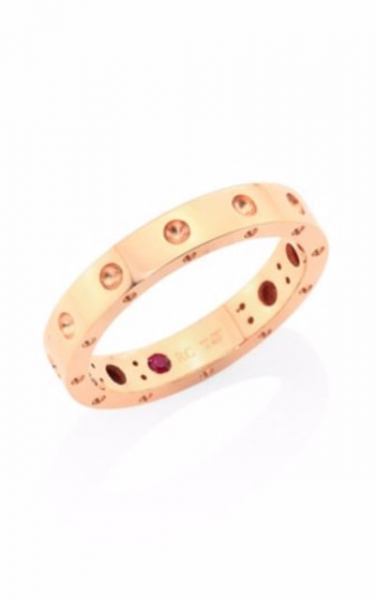 –
–

Roberto Coin Ladies Symphony Collection White Rose Yellow Gold Rings
" A precious melody composed of 5 different notes to listen to with your eyes "
Each Symphony jewel reproduces the style of one of the iconic collections of the Roberto Coin brand for a total of 5 different designs preserved in a unique jewelry set.
Roberto Coin signs each one of his pieces with a small ruby casted inside the jewel, in direct contact with the skin of who wears it.

This magical signature, surrounded by an antique halo of legend.  As an illustration this represents the message of good wishes that Roberto Coin dedicates to his passionate clientele.
Symphony Collection – from the modern pattern of the Pois Moi collection coupled with the majesty of Barocco style. Notably for this collection also is the hidden workmanship of Golden Gate and the peak with the light of the diamonds that distinguish the design inspired by the Princess collection.
Notably for this collection are 5 diverse and exclusive styles interpreted in 5 bracelets, 5 rings, 5 earrings and 5 pendants.
You can wear all together or separately – changing the combination of jewels every day according to each woman's style choice.
ABOUT THE BRAND
The Roberto Coin brand is born in 1996. Its founder, with whom it shares its name, is driven by the innate love for the world of art and fashion.
After all he decides to leave his successful career as a hotel manager to follow a dream and face a new and passionate adventure.
His creativity takes shape through the hands of the historical and most renowned Italian jewellery artisans.
Nevertheless this brings Roberto Coin's romantic and borderless imagination to life through their skills, telling his story through jewels that truly become works of art.
As a matter of fact Roberto Coin's taste and experimentation turn each creation into an unedited example of style and innovation that soon catches the attention of the jewellery world.
At the present time, the brand is placed among the most renowned Italian jewellers and at the top of international studies on creativity and quality.
Furthermore, each piece by Roberto Coin is the result of a thorough process.
Moreover it is a journey among different cultures and multi-ethnical influences, through the world of nature, between echoes of the past and future projections.
Roberto Coin's capability to transfer the most varied experiences, dreams and perspectives into the jewels, characterizes the brand's collections with an unmistakeable mark of identity and uniqueness.
Nevertheless we would like to express our Special Thanks to the Official Roberto Coin Website for all the above information.
Prices can vary according with the currency exchange rates and may be different than in store. Please check up your country and currencies for delivery.
Photo may have been enlarged and/or enhanced
Roberto Coin Ladies Symphony Collection White Rose Yellow Gold Rings | Majordor Luxury Gifts