How to Choose a Wrist Watch Considering Facts Part 2
The first part of this article can be found here: How to Choose a Wrist Watch – Some Factors you Should Consider – Part 1
Does Size Matter?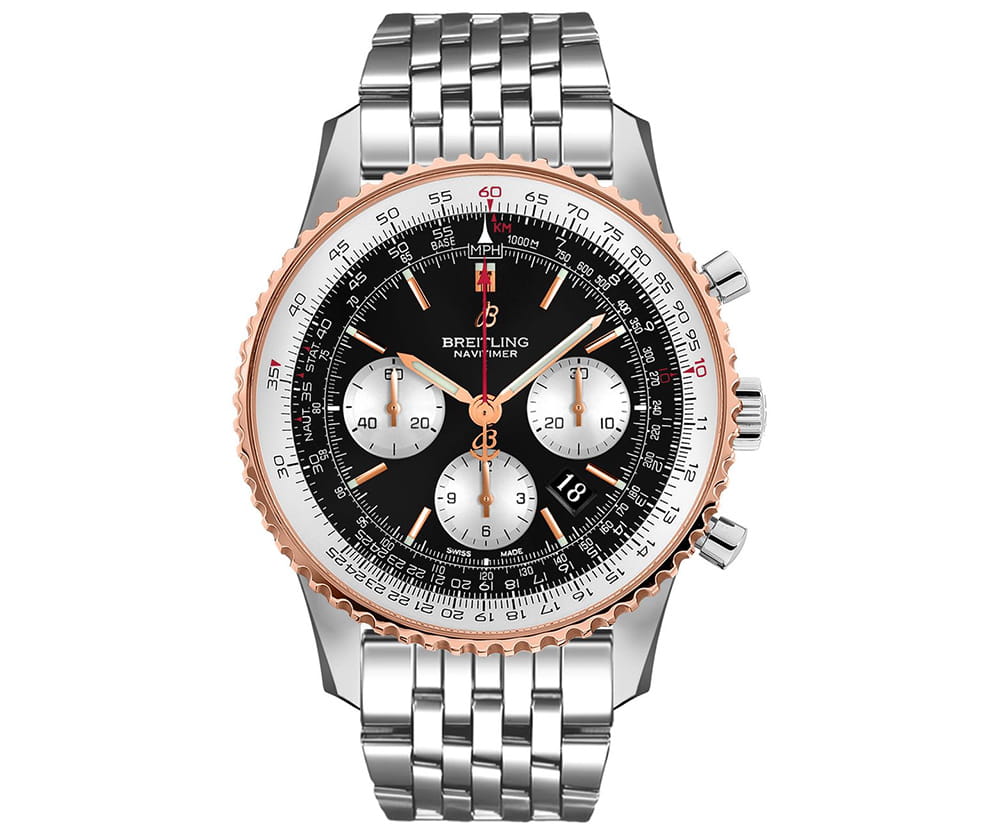 Nevertheless, if for your size matters, you're much closer to find your right watch. The next thing you need to look forward to is the right size of the watch. This is to make sure you find the right fit for you. Everyone possesses a different wrist size, so you want something that is tight enough that the band doesn't slide down your wrist. And it's loose enough that the band doesn't cut blood circulation or leave a mark on your wrist. All these factors must be taken into consideration when choosing the right fit. Here are the different factors of a watch that make up its size and build. You should consider, for exemplification, to look also at our Men's Luxury Watches Category and also at Ladies Luxury Watches Category. too
For example please consider the watch showed above – BREITLING NAVITIMER 1 B01 CHRONOGRAPH 46 UB012721-BG77-453A. This watch possesses a 46 mm – 1 3/4″ diameter, case thickness 14.51 mm and weighs 103.95 grams. Regarding its size, this watch is a large watch. 
–
Case Diameter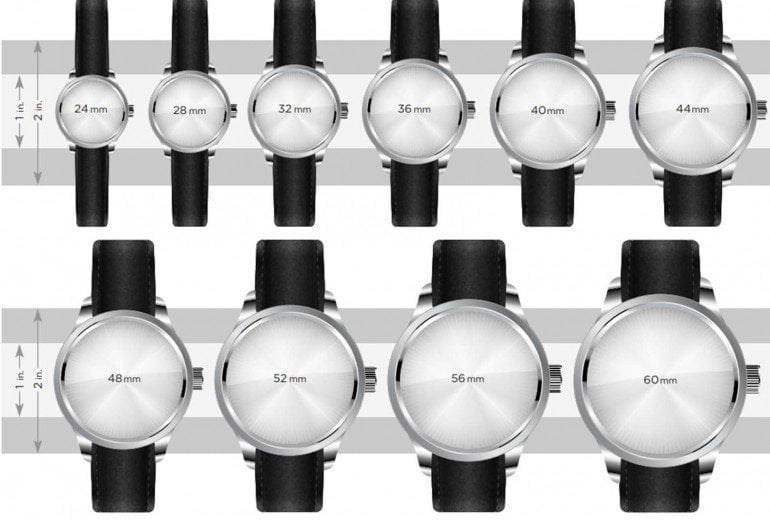 Case Diameter  – How to Choose a Wrist Watch Considering Facts Part 2

A watch's case diameter is the diameter of the dial of the watch. Larger case diameter is better suited for dress wear, while anything below 38mm is good for jewelry that most women prefer. The best case diameter measurement for small to medium wrist size is 38, 40, and 42mm. Larger case diameters range somewhere above 44 to 48 mm.
–
Case Thickness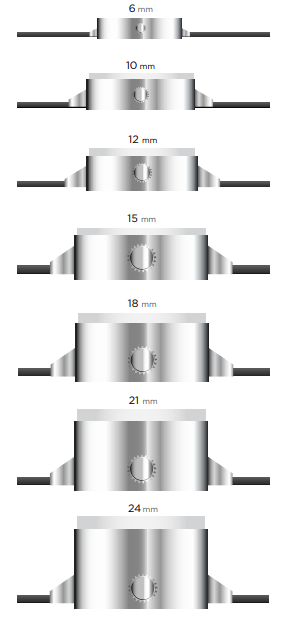 Case Thickness  – How to Choose a Wrist Watch Considering Facts Part 2
Modern watches come with thin cases, as opposed to thick mechanical watches that have been worn for years. The case thickness also depends on its diameter. For example, if a watch has a 40mm diameter, then the case thickness would waver around 7mm. For watches with 44 mm or more diameter, the thickness goes above 9mm. Nowadays you will discover that these sizes become suitable also for Ladies tastes. 
–
Strap / Bracelet Band Width

Strap / Bracelet Band Width  – How to Choose a Wrist Watch Considering Facts Part 2
Larger wrists prefer wider bands that range somewhere between 22 to 24mm. Meanwhile, smaller wrists prefer narrower bands ranging somewhere between 18 to 20 mm. This also depends on the case thickness and diameter of your watch.
Inlet Size – Lugends – of the Case 

Case Inlet Size  – How to Choose a Wrist Watch Considering Facts Part 2
For example, a watch with a 40 mm case diameter requires a suitable bandwidth of at least 20 mm or more. The option to choose between a wide or narrow bandwidth also depends on personal preference. Apart from these basics, the only way you can determine the right size or fit for you is by a size test. Move your watch up and down your wrist to check if it leaves behind any noticeable mark on your skin. 
–
Is Your Watch Durable?
As with any large purchase, making sure what you buy is durable is equally important. You need to know what durability features your watch has to offer. A watch can offer only a set of features, limited to its design and function. So taking durability into serious consideration when looking at elaborate models is critical. It also can help save effort and cut back costs! That said, the first feature you'd want to look for when choosing your ideal watch is water resistance. The level of resistance on any watch depends on various factors. Such as activity, immersion, and range of motion.
If you're looking to buy a watch for sports, such as running or cycling, buying a sweat-resistant watch is important (a typically key feature in the best cycling watch or best GPS running watch). Generic moisture resistant watches offer plenty of protection from sweat, humidity, and other similar factors. Meanwhile, for outdoor use, buying a watch that protects itself from spills and rain is also beneficial.
Getting back to water resistance, higher levels of water resistance varies from 50m to 1000m resistance. This is ideal for scuba divers (who would need the best dive computer watch), swimmers, and everything that falls in-between. The durability factor on any watch depends solely on what you choose to use it for.
Another factor of durability is the way the watch is manufactured. If you're considering well-known brands, it's imperative that they have a good product and customer reputation. In case you receive a faulty watch and you've paid a higher amount for it, contacting customer service for a quick replacement is imperative.
You can't tell by looking at a watch that it's durable and its manufacturer reliable. A little bit of research on both ends is important. 
Lastly, the battery life of a watch should not be limited to only its build. For example, digital watches can live as long as 10 years without compromising on function and feel. This is important if you wish to buy an automatic or mechanic watch for a higher price. There is a wide variety of affordable watches with the same shelf life, especially affordable automatic movement watches. 
---
How to Choose a Wrist Watch Considering Facts Part 2
---
–
Fixing A Good Price Range
Deciding on a budget is not that simple for a watch. Most people buying a new watch are more likely to spend a higher amount on the added benefits in terms of design and durability. Before you finalize a purchase, it's important you have a budget range in mind. So you know what to watch out for. 
You can buy a watch as affordable as $25 or as expensive as $10,000. This depends on the brand, style, material, movement, and the band of the watch.
Here's what you can expect to get for a certain price range.
–
Price Under $300
It's very common to find watches under $300, which is considered as a modest budget for a decent quality watch. For this price range, materials such as leather, stainless steel, and cloth would work. This includes the casing and band of a watch.
In terms of design, you can also expect to buy quartz movement watches with low to moderate level of water resistance. Sports watches, to be particular, are best bought for this price budget. Even though you will not get to experience more technologically advanced features of a watch, the good quality and deliverance will keep you satisfied.
More importantly, watches under $300 offer durable steel casing, water resistance, and good display. You can wear it on a daily basis or choose to wear it for special occasions such as office parties, get-togethers, etc.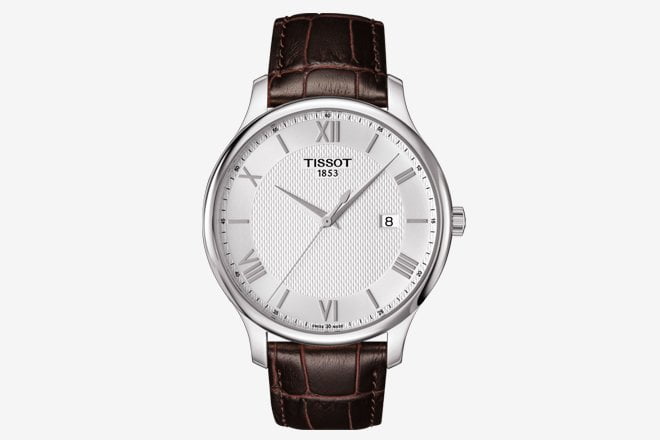 Price under 300$ – How to Choose a Wrist Watch Considering Facts Part 2
Between $300 to $700
Watches under this price range are a step above in terms of design, function, and durability. Materials such as plastic, rubber, cloth, leather, and stainless steel fall under this price range. Brands that offer quartz movement, but at a technologically higher standard, offer such prices.
Buying a watch under this price range has far better benefits. For example, you can invest in a strong, durable, and accurate watch made of better materials and packed with advanced features. They good for you because they're sturdier than other watches. So casual wearers can opt for a watch that falls under this price range.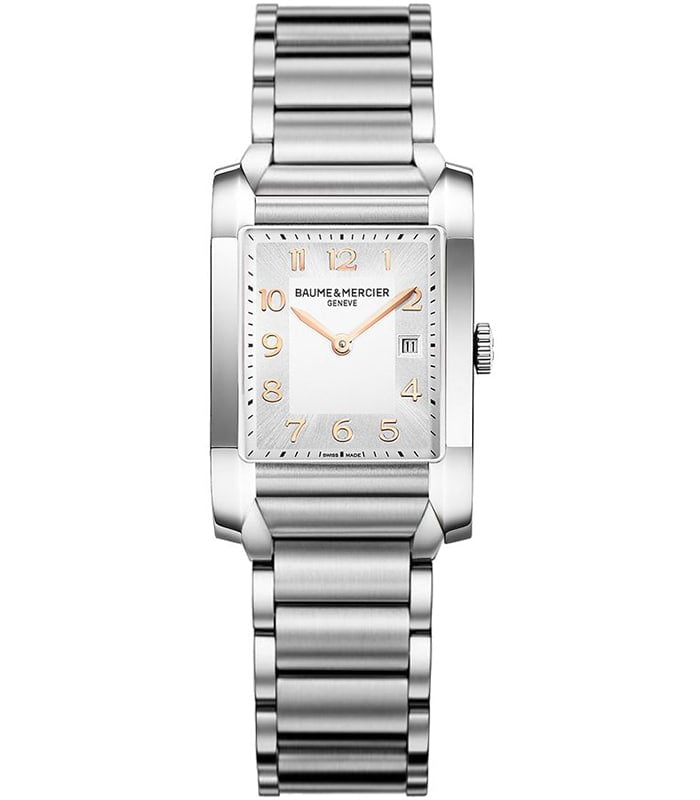 How to Choose a Wrist Watch Considering Facts Part 2
Between $750 to $2000 
This is what you should expect if you want to buy a high-end, sophisticated watch. These watches come in stainless steel, leather, titanium, ceramic, and such similar materials. They offer plenty of options in terms of rust-, moisture-, water-, and dust-resistance. Plus, most of them offer quartz and mechanical movements with versatile analog faces. Watches this expensive are also scratch-resistant for long-lasting use. So investing in such a high-quality watch has its very own perks! At the end of it all, you don't want to invest in something that doesn't have returns. And watches this expensive offer returns in terms of advanced features and a strong body.

For more information about this category follow this link: LONGINES CONQUEST QUARTZ LADIES LUXURY WATCH L3.378.4.57.6
Over $2000 
Here you are placing yourself in the range of High-End Luxury Watches with Complications – which are display mechanisms on a watch.
Some, like hour, minute, and second, are taken for granted, while others are so rare and difficult as to be considered "Grande Complications"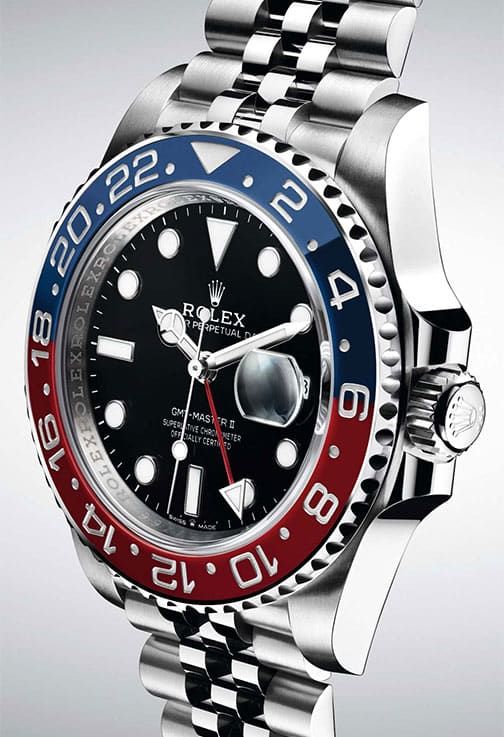 How to Choose a Wrist Watch Considering Facts Part 2
The following complications are commonly found on many watches: Hour hand, minute hand, second hand (not always considered complications)
Date and day indicators, including "big date"
Second timezone or GMT hand
World timer
24-hour hand
Day/night indicator
Subdials for second timezone, GMT, 24 hour time, or small seconds
Retrograde hands
Power reserve indicator
Moon phase
Alarm function
Chronograph functions:
Hour, minute, second
Split seconds
Rattrapante
Countdown
Flyback
Foudroyante
---
How to Choose a Wrist Watch Considering Facts Part 2
---
–
In the same time, Many people only consider complications related to time-telling when counting. However, a number of watches feature other non-timing features or complications, including the following:
Barometer
Temperature
Altimeter
Depth gauge
–
Grande Complications
More elaborate functions are often used to demonstrate the technical skill of a watchmaker. These Grande Complications are often so important that they are the focal point of a watch. Some, like the tourbillon, perpetual calendar, and repeater, can command hundreds of thousands of dollars and are hallmarks of prestige manufacture. For example, see the Patek Philippe Sky Moon Tourbillon Ref. 5002with twelve complications, the Jaeger-LeCoultre Hybris Mechanica series, or the Vacheron Constantin Tour de L'Ile, depicted here. 
---
How to Choose a Wrist Watch Considering Facts Part 2
---
Some consider a watch to be "Grande Complication" if it includes any of the following rare complications. Others demand that a watch have more than one of these. Still more consider a watch to be a "Grande Complication" only if it includes complications from three categories: Timing, chiming, and calendar.
Grande complications include:
Tourbillon, gyro-tourbillon, or carousel
Repeater and Grande Sonnerie
Perpetual calendar with leap year
Sidereal time
Equation of time
Astronomical indications, including sunrise and sunset and zodiac
---
How to Choose a Wrist Watch Considering Facts Part 2
---
–
Super Complications
Watchmakers occasionally "flex their muscles" by releasing special extremely-complicated watches, singularly or in tiny numbers with Super Complications.
Such is the case for the most famous complicated watch, the Henry Graves Supercomplication by Patek Philippe.
This pocket watch, commissioned in 1925, has set consecutive records when sold at auction, most recently selling for CHF 23.2 million ($23.8 million) on November 11, 2014, at Sotheby's in Geneva.
That same month, to celebrate their 175th anniversary, Patek Philippe released a limited edition of seven Grandmaster Chime wrist watches, their most complicated ever, with more chiming functions than any other watch. 
---
How to Choose a Wrist Watch Considering Facts Part 2
---
–
Where's The Best Place To Buy Watches?
The last thing you need to consider is where you want to buy your watch. That's the end of your purchasing decision. This factor won't tell you where exactly to buy a new watch, but it will list out all the factors you need to consider for finding a location.
This includes price, trust, and services. 
Do you trust the department store or person you're buying your watch from?
In case of any replacement, will you be able to sell or repurchase a watch from that particular store?
If you're dealing with a small retailer, individual dealer, or a large department store, knowing who you can have complete trust in is very important. Because while working with high-value goods, such as watches, anything can go wrong. Through no fault of your own, of course.
In case you receive a defective timepiece, your seller should be able to fix the problem or return back your money on the spot. And the way to go about it is checking the store or dealer's selling policies. What's the policy on working with defective or damaged products? Will your manufacturer repair the problem or offer you a brand-new product in excellent condition?
Such policies lay out both minor and major problems concerning new products. And if your dealer has a tie-up with local repair shops, finding the ideal fit is much simpler and less costly. Even though it means the process of fixing any particular problem takes a long time.
---
How to Choose a Wrist Watch Considering Facts Part 2
---
It is very unlikely that you will be given a fake product from a certified department store or a small dealer. But if that's the case, keeping your options open by asking around in different stores is essential.
The second biggest factor in buying a watch is price consideration. Apart from the design and function of a watch, where you buy it from also plays a role in price. If you're looking to invest a good amount of money in an expensive watch, buying it from a high-end department store that offers such price ranges is advisable.
Based on the watch's standard retail price, it would be a good idea to place your trust in a department store than an individual dealer, especially when you're dealing with a lot of money.
And if you're considering buying online, check for major retail sites that boast of a huge inventory of both products and customer reviews. Buying from a brand boutique online can be a safer option as they're better security and customer feedback. And online stores give much better prices and bonus features for a good purchase.
But in all these cases please consider reading all their policies, price policies, delivery times, orders tracks, warranty periods and so on.
Moreover, please check also your country taxes, bank fees, and all other fees or taxes. 
The best way to check all these factors please write or call the online store and find out more about your purchase. 
The last factor to look forward to is service. Which department store, individual dealer, or online store offers the best service? Do they pick up your phone or reply back to your email? Do they respond to your queries or complaints as promised? And what kind of offers do they offer in response to your feedback? Demanding respect and authenticity in exchange of purchase is kind of a big deal. A good retailer will do everything in your best interest. And not the other way around.
---
How to Choose a Wrist Watch Considering Facts Part 2
---
–
Final Thoughts On Buying A New Watch
The way watches are marketed in the industry has changed the face of the watch industry, at large. Most consumers opt to pay for the brand name, rather than the watch's distinctive features and design. As much as this is acceptable, it isn't the right way to go about finalizing a purchase.
Here's a simple run-down of picking a nice watch:
Figure out your ideal type of watch.
What kind of watch band do you prefer? And it's material quality?
Choose the correct fit for your wrist.
Do you want an affordable or an expensive watch?
Make sure the watch you're buying is durable.
Does it suit your style, whether dress or formal or casual? 
---
How to Choose a Wrist Watch Considering Facts Part 2
---
–
In any event, researching what you buy and how plays a major role in investing in a high-quality, valuable watch. This involves the question, "How to make a final purchasing decision?"
The right way to answer that question is with science-backed research and awareness. You need to weigh factors and features before deciding the value and price of a watch. And what happens after you buy the ideal watch for you?
You realize that you could have just as easily fallen for a more expensive watch with the same advanced features of the watch you bought for a cheaper price. It's a deal well done if you ask me!
When I want to buy a new fashion accessory I list down all my favorite picks and take a close look at each of them. This includes analyzing its style, type, color, material, durability, and efficiency. And if none of my favorite watches make the cut, I look for those that do. The whole point of choosing a new watch is to consider factors you don't already know about. What you will be measuring now for quality will have an impact on its shelf life.
The last thing I'd like to talk about before signing off is this: what about the warranty? Most prominent brands offer warranties up to 2 to 7 years after you've taken possession of the watch. So under this warranty, any sort of repairs or damaged will be taken care of by the manufacturer. This means you are in no way entitled to pay a single buck for repairs and maintenance.
After this period is over, any sort of attachments, replacements, or repairs is a matter of your financial concern. Some watches are made to last a lifetime, but a warranty shows show respectable and reliable your manufacturer is. So demanding a product that is guaranteed for a specific period of time, be it 2 or 5 years, is a good way to place trust in a particular brand. 
---
This article was first published in Jen Reviews: How to Choose a Watch, According to Science – 8 Factors to Consider and reviewed by Majordor. Thank you Jen Reviews for this great article! 
---
How to Choose a Wrist Watch Considering Facts Part 2 | Majordor Luxury Gifts  | Luxury Watches |