Vacheron Constantin Traditionnelle Twin Beat Perpetual Calendar Watch
---
---
As we already know, over its 264 years of horological excellence, Vacheron Constantin established an unshakeable reputation for its innovation in watches technology and also in timepieces design domain. As a matter of fact, Vacheron Constantin's is one of the manufacturers which define the future of fine mechanical watchmaking.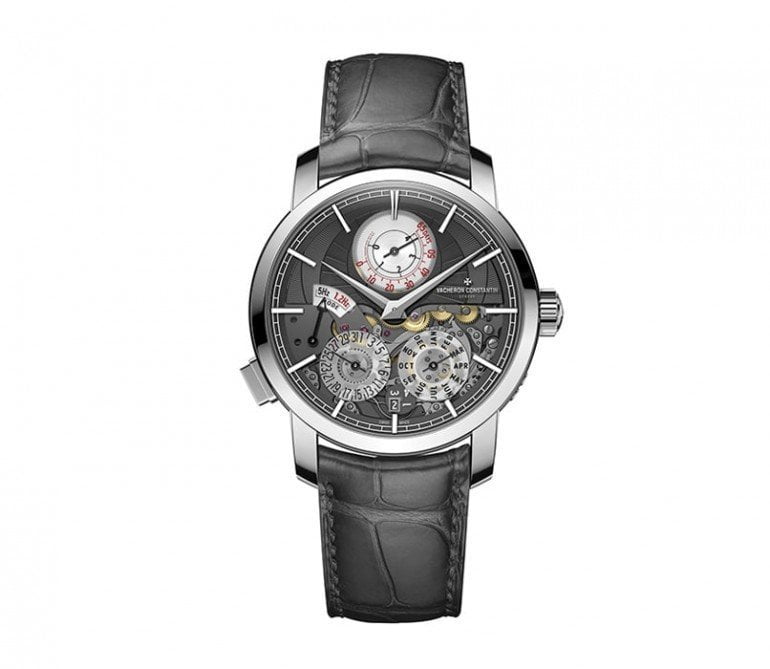 Vacheron Constantin Traditionnelle Twin Beat Perpetual Calendar Watch
Although, at SIHH 2019, Vacheron Constantin presents its latest watch model. The Vacheron Constantin Traditionnelle Twin Beat Perpetual Calendar Watch. Nevertheless, Vacheron Constantin created this watch to adapt itself, especially to its wearer's needs. So, when worn, the Traditionnelle Twin Beat Perpetual Calendar watch beats at its higher frequency. Of course, this implies aligning with any modern active lifestyles. In fact, it displays normally the hours, minutes, date, month, leap year cycle and also the power reserve on its dial. But, when the watch sits ( not worn ), something interesting happens. In order to guarantee its extended power reserve of at least 65 days, its movement slows down. Nevertheless, this watch comes with a unique in-house developed calibre 3610 QP. 
Nevertheless, one of the basic features considered in traditional mechanical watchmaking was that the energy output of the mainspring possesses a fixed time span. In fact, this time span comes from its little deviation from the originally stated power reserve. But, this watch transforms the mainspring into a source of variable energy levels. Thus, for the fine mechanical watchmaking, this feature becomes a completely new degree of versatility.
The Traditionnelle Twin Beat Perpetual Calendar Specifications
Moreover, because of its 264 years of watchmaking expertise, Vacheron Constantin introduced for the first time in its history into Traditionnelle Twin Beat Perpetual Calendar two balances. In this case, each balance operates at a different frequency.
Although, in the Active Mode, because of the pusher placed at 8 o'clock position, this watch allows the wearer to easily switch from one frequency to another, depending on its activity level. Thus, placed on the wrist, the wearer gets the most out of this feature. In fact, due to the Active mode, the watch keeps featuring a 5Hz (36,000vph) balance and also a 4 days power reserve.
But, in case the wearer leaves the watch unworn for some time, the watch can be switched to Standby mode. Thus, in Standby Mode, the watch runs on its second balance, reducing drastically its frequency, almost to 1.2Hz (8,640vph). In this case, the maximum power reserve extends to at least 65 days. Of course, at any point during the Standby Mode, this watch can be switched back to Active mode when its calendar indicates already perfectly the date.
The Perpetual Calendar
Vacheron Constantin Traditionnelle Twin Beat Perpetual Calendar Watch
Commonly, all watch connoisseurs, consider the perpetual calendar the most practical of all high complications. But, we all should consider this complex mechanical mechanism can display precisely all date information despite the variable months and leap years.
Thus, any Perpetual Calendar also possesses daily relevance and usefulness, too. Up until now, the relevance and utility of the perpetual calendar have been restricted by the limits of conventional mainspring technology. In most cases, making it necessary to set the perpetual calendar watch each time before it is worn. 
Now, together with this new feature, a hand-wound perpetual calendar which is seating flat on a table and picked up more than two months later, will still display the correct date and month.
Thus, Vacheron Constantin Traditionnelle Twin Beat Perpetual Calendar brings true meaning to the "perpetual" part of its name. Moreover, it presents a new course of Vacheron Constantin's timeless innovation.
Twin Beat® System – Power and Control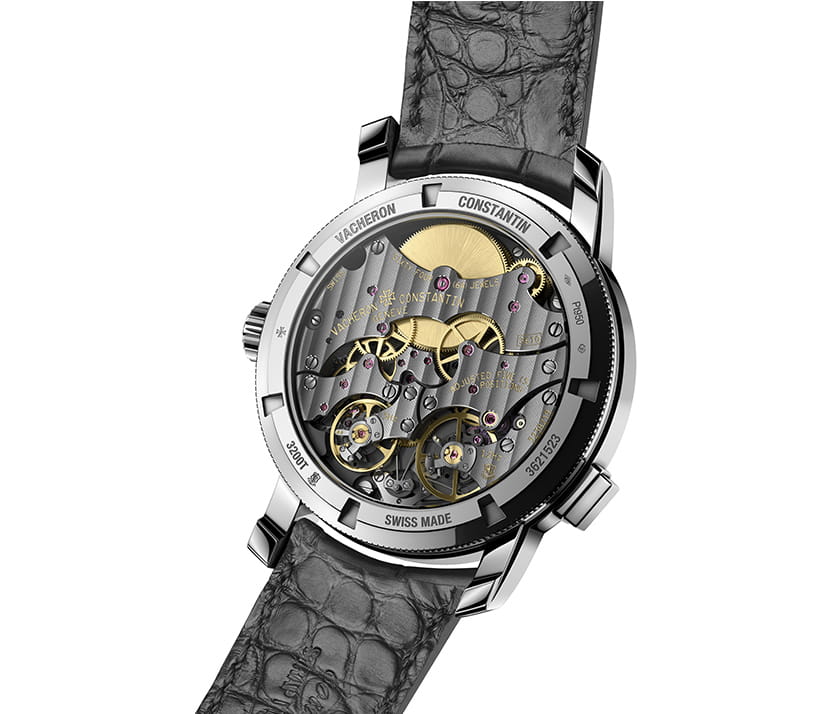 Vacheron Constantin Traditionnelle Twin Beat Perpetual Calendar Watch
Although, this amazing timepiece utilizes a patent-pending mechanical system. Thus this system enables instantaneous switching between Active mode (5Hz, 36,000vph) and Standby mode (1.2Hz, 8,640vph). Of course, this switching takes place without interrupting the ability of the movement to keep time. As a matter of fact, this system is inspired by the seasonal system from the Japanese Edo Period (1603 – 1868). So, this system divides day and night into six segments.
The segment length varies from day to night and from one season to another. All, clocks from this period were equipped with a single or double foliot balance enabling automatic changes in their operating speed. A similar Japanese lantern clock from the very beginning of 18th century, belonging to the Musée International d'Horlogerie based in Switzerland, is exhibited on Vacheron Constantin's booth at the SIHH 2019.
The Twin Beat® system
Crucial to the operation of the Twin Beat® system is the mode selector that operates on an all-or-nothing principle, allowing only one balance to oscillate at a time. Additionally, the all-or-nothing construction ensures that the switch is instantaneous, with no lag when transitioning from one mode to the other. This guarantees that the timekeeping operations of the calibre 3610 QP are never interrupted, even for a fraction of a second, and that the time display remains as precise as possible.
Both the Active (5Hz, 36,000vph) and Standby (1.2Hz, 8,640vph) balances are driven by the same mainspring barrel, which is the most efficient way of distributing energy and the only way to have a single power-reserve indication. This high prioritization of efficiency is central to the Traditionnelle Twin Beat Perpetual Calendar, particularly with the Twin Beat® system and what it represents. 
The other side of the Traditionnelle Twin Beat Perpetual Calendar's optimized energy consumption is its 1.2Hz (8,640vph) Standby mode, which steps in during long periods of stasis when the watch sits ( not worn ) and a high-frequency balance would only drain the mainspring with no added advantage
Find out more about Twin Beat® following this link: SIHH 2019: Traditionnelle Twin Beat Perpetual Calendar, A Breakthrough in Function and Innovation
Other Technical Challenges
In order to support the main features of the Traditionnelle Twin Beat Perpetual Calendar — the blockbuster perpetual calendar and the innovative Twin Beat® system — a number of other mechanical issues had to be addressed. With this special timepiece, Vacheron Constantin moved beyond the conventional range of oscillator frequencies for the first time. In doing so, new in-house areas of research and development open. Of course the opening concern the fundamental principles of mechanical timekeeping regulation.
As a result, Vacheron Constantin created a new hairspring, specifically for the needs of the highly sensitive Standby balance (1.2Hz, 8,640vph). Moreover, it possesses a cross-sectional dimension of 0.0774mm by 0.0159mm. In fact, this dimension is comparable to the finest examples of the human hair. In the same time, the hairspring of the Standby balance is nearly four times smaller in cross-section. But, becomes exponentially more delicate than the hairspring of the Active balance (5Hz, 36,000vph).
Although the display of the hours and minutes may seem to be the most straightforward part of the Traditionnelle Twin Beat Perpetual Calendar. Of course, they are by far simple or conventional. Because the calibre 3610 QP possesses two balance wheels, it allows only one to oscillate at one time. Thus, the hour and minute hands have to draw variable information from two gear trains for one reading of the time. In fact, the gear differential allows the hands to read more than one input source of timekeeping data
TECHNICAL DATA
Traditionnelle Twin Beat Perpetual Calendar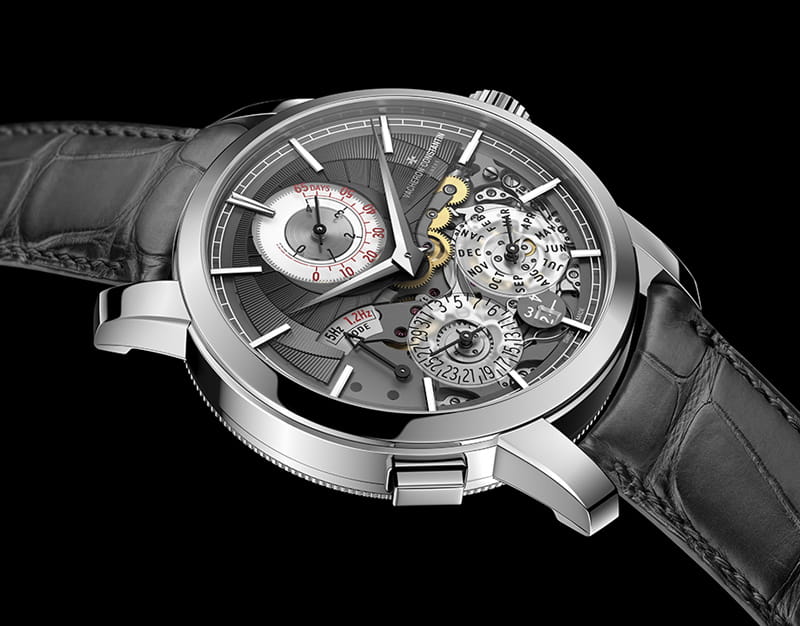 REFERENCE: 3200T/000P-B578

CALIBRE:
3610 QP
Developed and also manufactured by Vacheron Constantin
Mechanical, manual-winding
32 mm (14 ¼) diameter, 6 mm thick
5Hz (36,000 vibrations/hour), 1.2Hz (8,640 vibrations/hour)
480 components
64 jewels
Active mode (5Hz frequency): approximately 4 days of power reserve
Standby mode (1.2Hz frequency): approximately 65 days of power reserve
Hallmark of Geneva certified timepiece
INDICATIONS
Hours, minutes, instantaneous perpetual calendar, power reserve, frequency mode
CASE
950 platinum
42 mm diameter, 12.3 mm thick
Transparent sapphire-crystal caseback 
Water-resistance tested at a pressure of 3 bar (approx. 30 m)
DIAL
Gold hand-guilloché slate-colored dial (inner part) and transparent sapphire-crystal dial 
18k white-gold applied hour markers, 18k white-gold hours and minutes hands
Black oxidized gold power-reserve, date, month and frequency-mode hands
STRAP
Grey Mississippiensis alligator leather strap with alligator inner shell, hand-stitched, saddle-finish and also with large square scales
CLASP
Pin buckle in 950 platinum, polished half Maltese cross.
---
We would like also to thank very much to Vacheron Constantine Official Website for all the above information. 
---
Vacheron Constantin Traditionnelle Twin Beat Perpetual Calendar Watch | Luxury Watches