Longines Master Collection Retrograde Moonphase Review

~
"Long experience meets vast expertise"
"As a traditional watchmaking company, Longines has been producing exceptional timepieces since the very beginning. Today, the Longines Master Collection becomes the perfect illustration of this corporate ethos, as can be seen from the success enjoyed by this range since it was launched in 2005. All fitted with self-winding movements, the various models in this collection offer many special features. The Longines Master Collection brings together the classical elegance and excellent quality which never cease to delight those who appreciate exceptional timepieces."
~
The Retrograde Meaning 
–
In the first place, a Retrograde Dial displays a function in a linear fashion. So, this happens as opposed to a circular fashion as seen in the case of sub-dials. So, a retrograde dial is mostly in the shape of an arc and also can display functions like date, day, power reserve and more.
As a matter of fact, it means that the retrograde function reverts to an earlier condition. So, in a retrograde dial, the hand moves along an arc and when it reaches the end, it jumps back to the beginning position, or to the "earlier condition". In other words, this is contrary to what happens in the sub-dial. In a sub-dial, the hands keep moving in one direction only in a circular way. But, the Retrograde dial becomes rather a difficult complication. In contrast, as the hand needs to move gradually in a particular direction along an arc, and then when it reaches the end of the arc it needs to suddenly jump back to the beginning. There are cases when a strait line replaces the arc.
However, most watches usually display sub-dials for different functions, but the retrograde dial becomes a more sophisticated complication that requires great skill and also art in developing.
The Retrograde Function 
Over the years, the retrograde dial becomes more appreciated also because of its complex machinery and mechanism. But that is not the only reason for its existence. Because of their adequate use of space,  the retrograde dials become more used. In fact, a dial can display a day of the week in a circular sub-dial. But this function would take up a lot of space of that dial. So, just for just seven markers, an entire circle of a dial will be necessary to be used from the dial space. But, an arc would take almost half the space of a circle and also still display the function quite effectively.
In fact, the retrograde dials become most popularly because of the displayed functions such as day and also power reserve. Nevertheless, in many cases, the date function becomes shown more efficiently.
Therefore, the retrograde dials are usually found in watches with a great degree of complications. And that's because on the dial remains a small space to display all watch functions. Although there exist some exceptions.  The retrograde dials come usually coupled with at least one or two sub-dials, for showing other functions.
~
The Moon-phase Function 
–
This represents also a watch function or better said a complication.
About Moon phases 
The moon always faces the earth on the same side. Based upon this fact – that the moon obtains its light from the sun – and also at times a very small part from the earth. In other words, the ashen earthshine can be observed just before and after the new moon. But the moon changes continuously its face this beeing called the new moon, waxing moon, full moon, and also waning moon.
Moreover, a lunar cycle lasts approximately 29.5 days. So, it appears in the sky from day to day about 50 minutes later (24 hours divided by 29.5).
The Moon-phase indication
A moon-phase indication is a rotating disk. This comes shown in a dial section, which indicates also the position of the moon. Usually the way it presents itself at the observation of the Northern Hemisphere. Because of the additional mechanics, moon-phase indication represents also a watch complication.
~
Longines Master Collection Retrograde Moonphase Review
–
~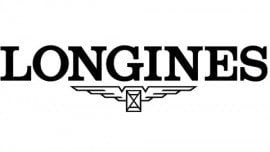 –
Find out more about our Longines Watches Collection also Here
–
So, we will start with one of the most viewed and appreciated watch from this collection:
LONGINES MASTER COLLECTION MOON PHASE 44MM MENS WATCH Ref. L2.739.4.71.3 / L27394713
~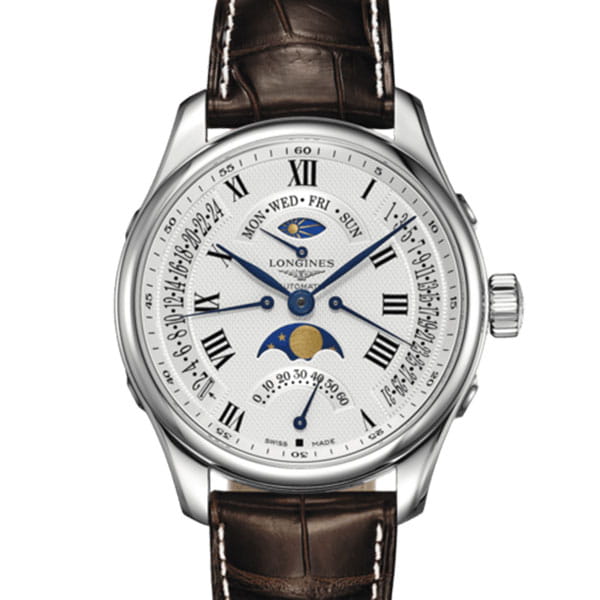 –
Nevertheless, with its long and distinguished traditions, Longines established its worldwide reputation on luxury timepieces. Also, notable for Longines remains their intrinsic quality. Not to mention Longines' elaborate sense for style and also the timing of their launch. In fact, the Longines Master Collection comes as a perfect example of all Longines skills and Attitude.
As a matter of fact, on the basis of their success and also of this collection, since its launch in 2005, Longines added a number of new models. Although, these new models come with cases in pink and yellow gold, with black dials and also new sizes. Thus, as an example, from its launch, this lovely watch already caused a sensation on the market. These new designs reach the world markets precisely as consumers signal their clear preference for products that not only offer genuine value but unmistakable character as well.
The Movement – Longines Caliber L707
Nevertheless, Longines succeeded for the first time in bringing together the day, the night and the phases of the moon in a symphony of retrograde hands. Of course, this happened with its new timepieces named The Longines Master Collection Retrograde Moon Phases. Although, this Collection combines the brand's technical heritage with its unmistaken aesthetical quality. Thus, Longines Caliber L707 was specially developed for Longines. Moreover, with its various retrograde functions, this line rapidly becomes the figurehead of The Longines Master Collection. In fact, this collection comes as a tribute to the brand's long watchmaking tradition.
| | |
| --- | --- |
| Brand: | Longines |
| Reference: | L707 |
| Movement: | Automatic |
| Display: | Analog |
| Diameter: | 36.60 |
| Jewels: | 25 |
| Reserve: | 48 |
| Frequency: | 28800 |
| Date: | Date |
| Hands: | Additional 24 Hour Hand (adjustable), Day / Night Indication, Hours, Minutes, Small Seconds |
| Astronomical: | Moonphase |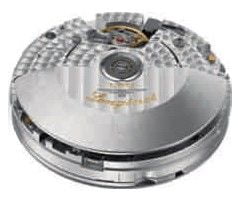 ~
Longines Master Collection Retrograde Moonphase Review
Technical Specification 
–
FEATURES / COMPLICATIONS
Moonphase
Retrograde
Day/Date
The CASE
Shape: Round
Dimensions: 44 mm = 1 3/4″
Thickness: 17 mm
Material: Polished Stainless Steel 
Scratch Resistant Sapphire Crystal
Also Sapphire Crystal Exhibition Back
Fixed Bezel
30 Meters / 100 Feet Water Resistant 
Pressure Fitted Case Back
The DIAL
Color: Silver Texture 
Finish: Guilloche
Indexes: Roman and also Arabic Numerals
Blued (Feuille) Hours, Minutes and also Seconds Hands
Small seconds hand located at 6 o'clock 
Date hand at the right side of the dial. 
Day of week display beneath the 12 o'clock position. 
GMT/24-hour second time-zone at the left side of the dial
Day/night indicator located at 12 o'clock
Moonphase display located at 6 o'clock
All complications are displayed via retrograde indicators
The BRACELET / STRAP 
Type: Strap
Material: Brawn Leather with Alligator Pattern
Size: 7″ – 17.80 cm Adjustable Strap
Stainless Steel Deployment Buckle 
Warranty
3 Years Warranty Included or you can also choose for an extended warranty program: Silver – +3 Years. Gold – Lifetime or Platinum – Lifetime with Yearly Ultrasonic Deep Cleaning
You can find out more also about Pricing and Delivery Here
In the same time, this watch comes also with a Polished with Brushed Steel Case and Bracelet Also Known As Model # L27394716 / 27394716.
You can find out more also about Pricing and Delivery
Here
---
Longines Master Collection Retrograde Moonphase Review
---
The next two watches which we would like to present are the Longines Master Collection Phase 44mm Men's Watch Black Dial Ref.: L2.739.4.51.6 Moon  and Longines Master Collection L2.739.4.51.7 Moon Phase 44mm Men's Watch with Black Leather Strap
–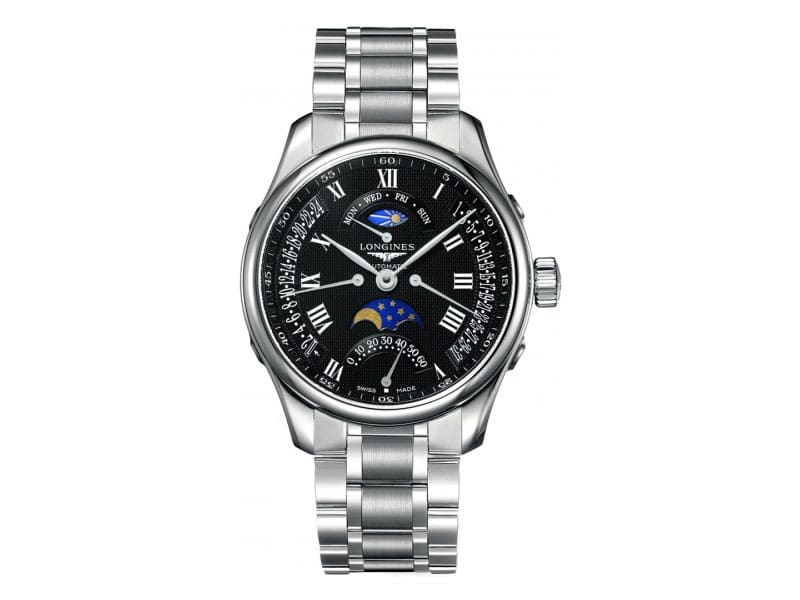 ~
You can find out more also about Pricing and Delivery Here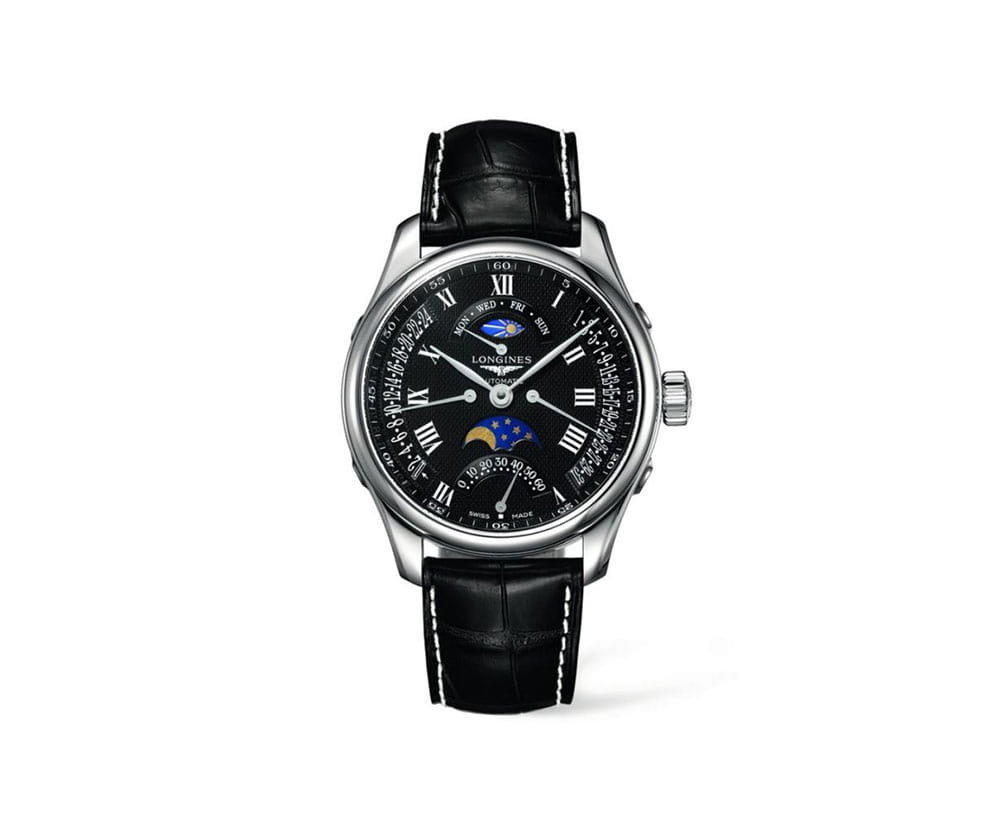 ~
You can find out more also about Pricing and Delivery Here
–
Longines Master Collection Retrograde Moonphase Review
Technical Specification 
The MOVEMENT
Self Winding Automatic Movement
4 retrograde functions (24h, Day, Date, Seconds)
Caliber: Longines Caliber L707
Frequency: 28,800 vph
Contains 25 Jewels
Power reserve: Up to 48 hours
FEATURES / COMPLICATIONS
Moonphase
Retrograde
Day and also Date
The CASE
Shape: Round
Dimensions: 44 mm = 1 3/4″
Thickness: 17 mm
Material: Polished Stainless Steel 
Scratch Resistant Sapphire Crystal
Also Sapphire Crystal Exhibition Back
Stainless Steel Fixed Bezel and also the Crown
30 Meters / 100 Feet Water Resistant 
Pressure Fitted Case Back
The DIAL
Color: Black Texture 
Finish: Guilloche
Indexes: Roman and also Arabic Numerals
Silvered Steel Hours, Minutes, Seconds and also Sub-dial Hands
Small seconds hand located at 6 o'clock 
Moonphase display located also at 6 o'clock
Date hand at the right side of the dial. 
Day of week display beneath the 12 o'clock position. 
Day/night indicator located also at 12 o'clock
GMT/24-hour second time-zone at the left side of the dial
All complications are displayed via retrograde indicators
BRACELET / STRAP 
Type: Bracelet
Material: Polished with Brushed Steel Bracelet
 Size: 7″ – 17.80 cm Adjustable Strap
Deployment Buckle
Warranty
3 Years Warranty Included or you can also choose for an extended warranty program: Silver – +3 Years. Gold – Lifetime and also Platinum – Lifetime with Yearly Ultrasonic Deep Cleaning
You can find out more about Our LONGINES MASTER RETROGRADE WATCHES COLLECTION also about Pricing and Delivery Here
Longines Master Collection Retrograde Moonphase Review