Logical One Romain Gauthier Luxury Watch Review
Romain Gauthier launched his brand in 2006 with the Prestige HM (Hour, Minute", which featured his own in-house manufacture movement. The HM model possesses an elegant hand-guilloched open dial with off-center time indication. As a matter of fact, what makes it non-traditional remains its apparent lack of a crown. The crown is actually flat and located on the caseback.  This feature was carried through to the Prestige HMS (Hour, Minute, Second) which launched in 2012. Manufacture Romain Gauthier has advanced CNC machines and automatic lathes and produces virtually every high-quality component in-house.  
Logical One Romain Gauthier Luxury Watch Review
–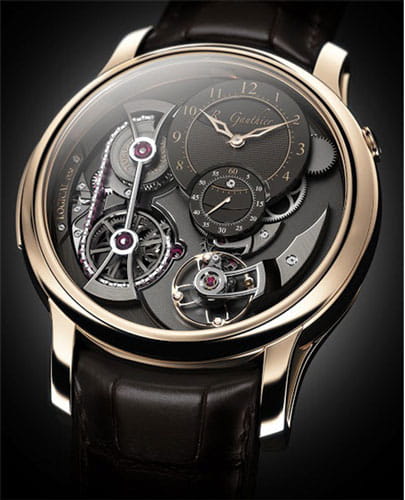 –
43 mm platinum case – Logical One Romain Gauthier Luxury Watch Review
In what looks to be a noteworthy advancement of one of the oldest and also most traditional constant force mechanisms, independent watchmaker Romain Gauthier unveiled his third and latest creation. The Logical One. In the triple-patent pending Logical One, Gauthier replaced the 'chain-and-fusee' with his own 'ruby chain-and-snail' constant force system. 
Additionally to replacing the 'fusee', the chain in this mechanical system comes made of ruby links, with a quite visually appealing on the dial. The Logical One features a push-button winding and also a barrel with sapphire inserts. And yes while this watch is mechanically innovative, represents also a quite beautiful and well-finished timepiece. Nevertheless, according to the specialists, Gauthier's one of his best works yet. Let's first take a look at the innovative 'chain and snail' system conceived by Gauthier. 
'Ruby Chain and Snail' Constant Force Mechanism
~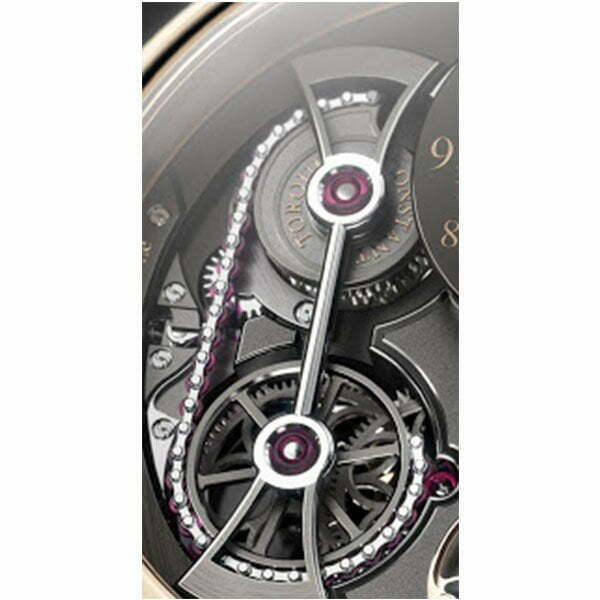 'Ruby Chain and Snail' Constant Force Mechanism – Logical One Romain Gauthier Luxury Watch Review
–
Manufacture Romain Gauthier entirely conceived, developed, designed, produced, decorated, assembled and also regulated this mechanism. In fact,  according to Gauthier, the vast majority of machines run on constant force. For example, cars and planes don't start running slower as fuel runs low and machines receive the same voltage no matter how much electricity is produced. So, the power that runs and regulates the vast majority of high precision mechanical timepieces varies greatly according to the state of wind of the mainspring.
Of course the concept of "constant force" represents no great secret in the watch world. In fact, this represents also a persistent challenge for watchmakers. One must appreciate the gumption of Gauthier for taking take on the challenge of improving the constant force challenge by discarding conventional wisdom.
–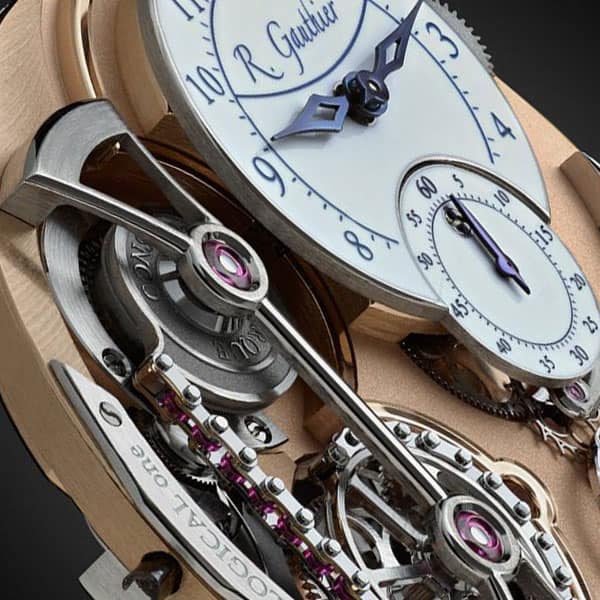 –
The Ruby Chain – Logical One Romain Gauthier Luxury Watch Review
–
To improve on the age-old "chain and fusee" system, Gauthier has replaced the fusee with a slowly rotating snail cam. You can see it situated above at 10 o'clock, just to the left of the hour/minutes dial.   As the snail cam and mainspring barrel are on the same level, the force is always transmitted in a straight line. And, as only one short line of the chain is needed, the links can be bigger and also stronger.  
–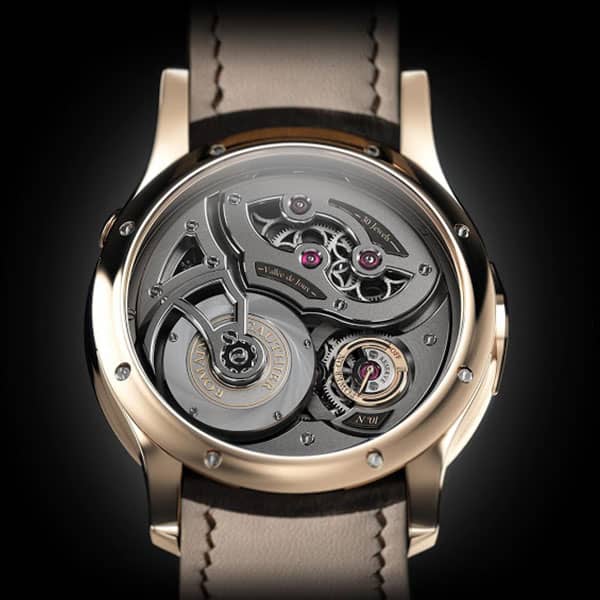 –
Winding and Time Setting

As shown here, the pusher set neatly into the left case-band.  Gauthier notes that there aesthetic and engineering advantages in such a system, namely that it is more robust than the traditional crown and stem approach by transmitting force to the barrel on the same plane.
Time is set via the crown (with sapphire cabochon) at 2 o'clock — barely visible into the pictures, but also see it in the video here. 
–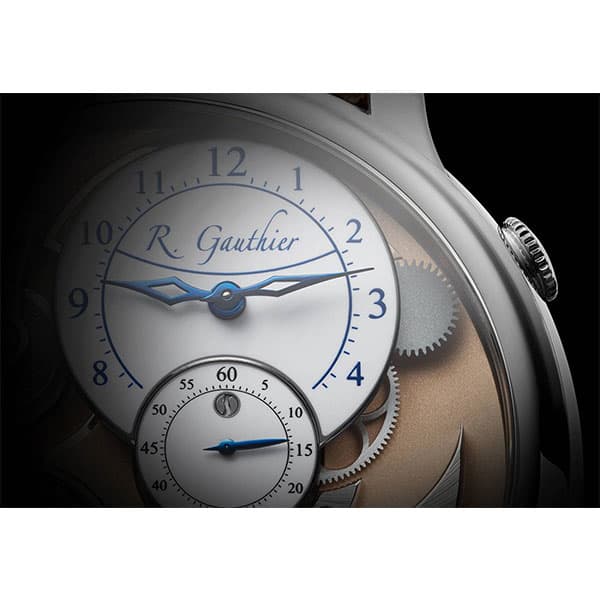 –
Mainspring barrel with sapphire lining – Logical One Romain Gauthier Luxury Watch Review
–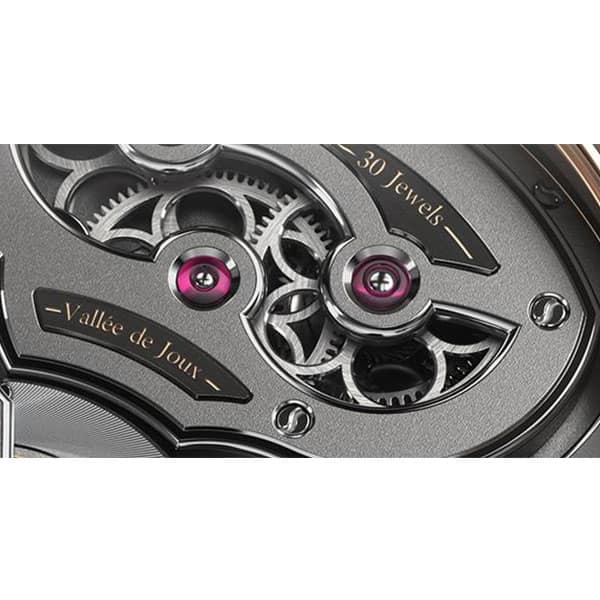 Here is another innovation in the watch. Within the mainspring barrel, Gauthier placed two sapphire plates, one on either side of the mainspring. 
These objects are advantaged versus steel (which the mainspring would rub against sans- the sapphire plates) in that they are lower-friction and thus will result in less wear and tear on the barrel over time.
As shown below, the Logical One also represents a high standard of finishing. On the dial side, you see beautifully shaped gear wheels, frosted bridges, and polished screw heads.  Notice also the screw has a distinctive S-slot rather than being straight slotted.
–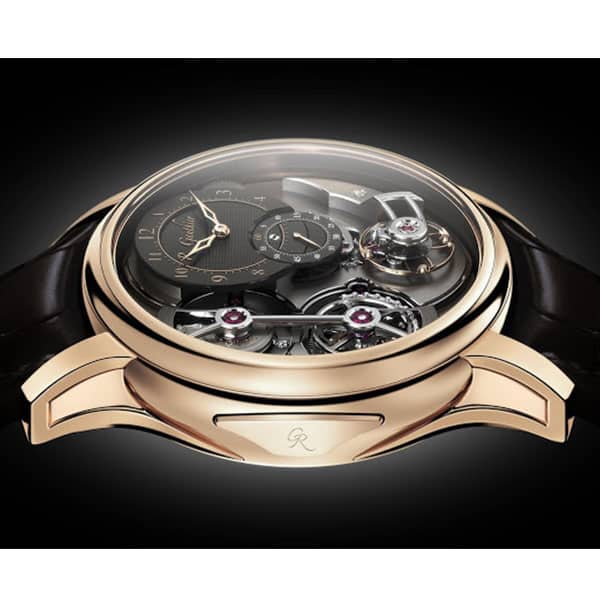 –
Haute Horlogerie Finishing – Logical One Romain Gauthier Luxury Watch Review
The back is equally stunning.  Note the polished sharp internal beveled angles in the movement plates and bridges, a hallmark of superlative hand finishing.  Machines are not capable of such fine handiwork, believe me. As well, notice the double-angle bevels with sharp internal angles, which give the effect of border — exquisite!  And also there is a power reserve indicator (60 hours) — too bad he couldn't get that onto the dial-side!
–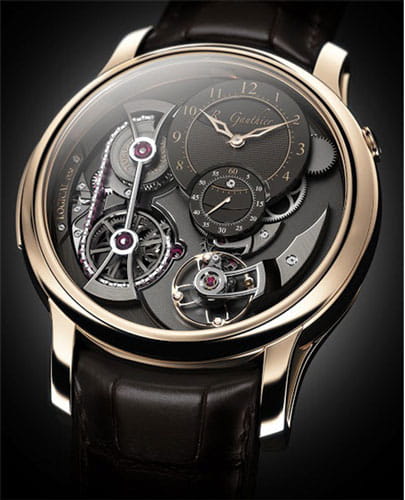 –
The Romain Gauthier Logical One is available in red gold or platinum (43mm x 14.2mm case), with a price TBD.  This model comes as a "limited edition" per se, but for sure that if you own one of these watches, you will be present also into a small and exclusive company.
Last thought:  Nicely done, Mr. Gauthier.
About Romain Gauthier
Born in 1975 in Le Sentier, in the picturesque Vallée de Joux, at the heart of fine Swiss watchmaking, Romain developed a passion for traditional Haute Horlogerie blended with clean, contemporary design and innovative micro-engineering.  After studying precision-mechanics, Romain started his first job as a machine programmer/operator and over the ensuing years, managed and grew the department into one of the best – equipped and most efficient production facilities in Europe.
Determined to create his own watch brand, Romain completed an MBA in 2002. His final thesis – passed with distinction – was the business plan for Montres Romain Gauthier. He then began work also on the timepieces themselves. "I knew that a good movement was the basis of everything I planned to build, so I started with that." In 2005, after three years of working in secret, Romain launched also his brand in Baselworld 2007 with the Prestige HM, featuring his own in-house manufacture movement. The  Prestige HMS followed in 2010 and also Logical One in 2013. Find out more about him here.
Logical One Romain Gauthier Luxury Watch Review | Blog