Kerbedanz Maximus Limited Edition Worlds Biggest Tourbillon
–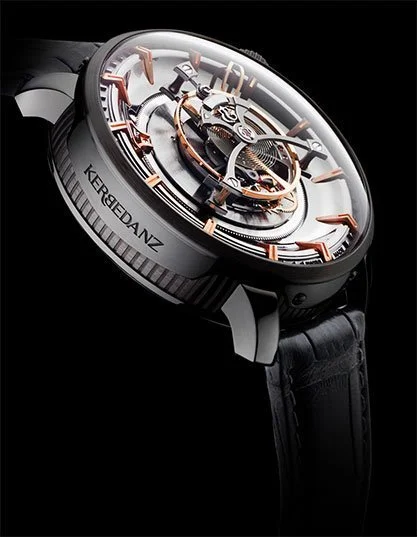 –
–
Derived from the Latin word "magnus" which means "great", Maximus therefore means "The Greatest".
Introduced in Baselworld 2017, by Kerbedanz Company, Maximus together with its 1.35 gram ultra-large 27 mm tourbillon ensure a great precision of its mechanical movement. This Watch can be called the Worlds Largest Luxury Wristwatch Tourbillon.
Following the history and the fact that all Roman Emperors were awarded during their imperial period with the Superlative Word Maximus, this word become a key title for this watch, expressing its greatness and splendor.
notably, 

This new amazing 49-mm diameter wristwatch available in titanium or in 18 carats gold, houses a giant central flying tourbillon movement, rotating every 6 minutes.
---
Definitions
Tourbillon
The escapement of a mechanical watch represents practically the "brain" of that watch. This includes a delicate hairspring mounted on a balance wheel that rotates back and forth (each rotation equates to a tick on the watch). Because to the nature of the watch design and also because of the gravity effects of the lighter or the heavier spots in the balance wheel, the rate of timekeeping will vary when the watch is placed in different positions.
How a Tourbillon Works
A standard mechanical watch possess a fixed escapement. As a result it is almost impossible to regulate it – to keep the exact same rate – no matter which position that watch is in (dial up, down, crown up, down ,etc.). Therefore the tourbillon enters in action. The entire escapement of a tourbillon is housed in a rotating cage and the whole assembly moves constantly with the watch. Properly, this means that no matter what position the watch is, all timing variations are essentially canceled out. The tourbillon represents one of the pinnacles of horological achievement, and also a truly impressive feature of engineering.
For more information about watches complications please follow this link: Features – Complications
Kerbedanz Maximus Limited Edition Worlds Biggest Tourbillon
---
Additionally, this watch offers more than 48 hours of power reserve.
Thanks to its spectacular dimension, the functioning of the tourbillon becomes much more visible and understandable.
–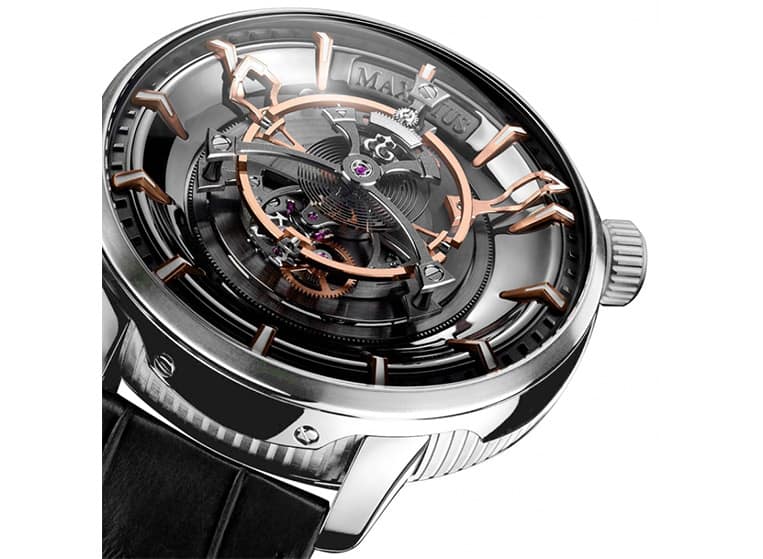 –
Kerbedanz Maximus Limited Edition Worlds Biggest Tourbillon
–
Water-resistant to 30 meters, this 99-pieces limited edition comes on a MISSISSIPPIANS alligator strap with a 18 carats gold double folding clasp, adorned with a special Kerbedanz design.
Notably Also for this watch, because of its giant flying tourbillon,the challenge for the designers at the beginning to fix several technical problems was inevitable.
Maximus 27 mm diameter tourbillon creates a challenge for movement designers to incorporate it inside a watch case.
Even with Maximus large 49 mm case diameter, this was not an easy task.
–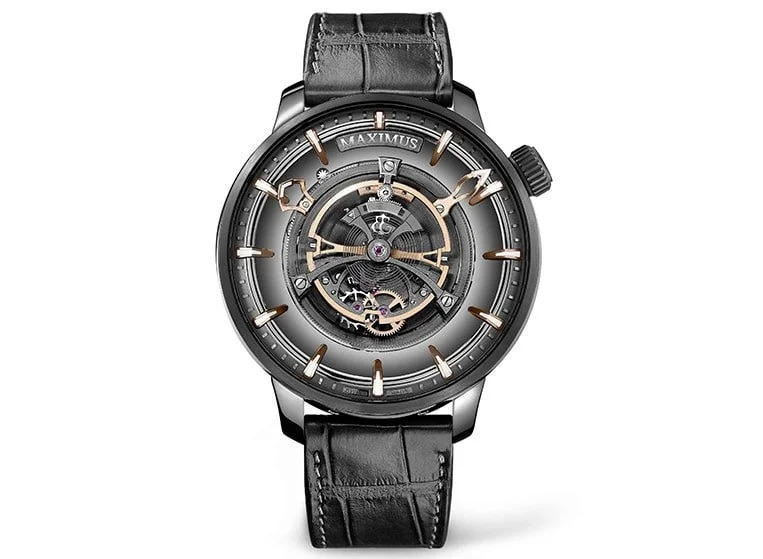 –
Kerbedanz Maximus Limited Edition Worlds Biggest Tourbillon
–
Maximus is not only the biggest tourbillon in a wristwatch currently on the market, it is also one of very few central tourbillons available.
Furthermore, because the tourbillon carriage is so large, a new balance wheel and spring had to be developed specifically for this calibre.
Since the tourbillon takes centre stage and hovers over the dial, taking the height of the movement including the carriage to 13.2 mm, it gives an unparalleled overview of how this regulating organ works.
–
–
–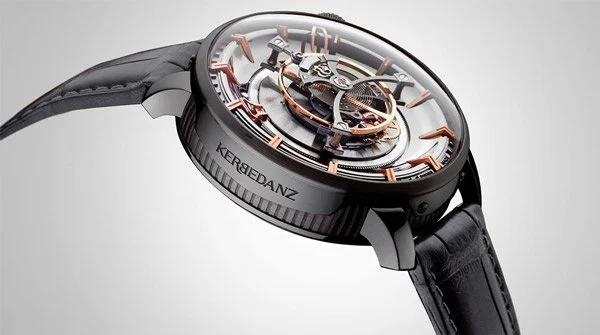 –
Furthermore, because of its size it is quite simply much more visible than any other tourbillon, which, together with the absence of a dial in the traditional sense, means that extra care must be lavished on the movement finishing.
All the components in the Kerbedanz Maximus are therefore finished by hand with hand polished chamfers, drawn flanks and mirror-polished screws. 
The calibre KRB-08 powering this supersized tourbillon is equipped with four mainspring barrels arranged in parallel, which are hand-wound by a special winding stem located on the case back.
Thus, Even beating at a sedate 18,000 vibrations per hour and completing a full revolution in six minutes rather than the usual 60 seconds, the 1.35 grams of the tourbillon carriage take some moving.
But the four barrels ensure a respectable 48 hours of power reserve. 
The Kerbedanz Maximus is available with a case in titanium or 18-carat rose gold and an alligator leather strap with double folding clasp in a special Kerbedanz design. It is a limited edition of 99.
–
This article was first published on WorldTempus Magazine: 

Maximus – the world's biggest tourbillon
Kerbedanz Maximus Limited Edition Worlds Biggest Tourbillon
---
Kerbedanz – A STORY
–
It's a premiere! By choosing to combine the symbolisms, KERBEDANZ opens an unexplored path in traditional Swiss watchmaking.
Faithful to its artisanal heritage related to family know-how in high jewelry, KERBEDANZ, based in Neuchâtel, gives life on a mode of unique pieces or ultra limited series to rare and ultimate mechanical timepieces served as a concentrate of initiatory journeys… 
Guardian of a family tradition, Tigran Kerbedanz, president and founder of

KERBEDANZ

, exceeds the mere creation of a brand; by instituting his name in the original cradle of watchmaking excellence, pays tribute to his ancestor, respected blacksmith, renowned for his wonderful ability to shape the metal as well as his legendary generosity.
The fame of this craftsman, due to his love for well done work and quality of his soul, exceeded the borders of his region. The antique clocks he repaired increased his reputation. 
in fact, 

Etymologically, the name "Kerbedanz" which means, "the heirs of Karabed", contains the meaning of Leader and Precursor. These predestined dimensions fit within the current vision of the brand.
moreover,

 These two qualifiers are perfectly suitable for KERBEDANZ brand: precursor in the concept and values attached to the product, but also a leader in the sense that its models, unique or in very limited editions, are reserved for an exclusive audience of renowned personalities, the same leaders and precursors in their respective activities.
Nevertheless, KERBEDANZ is totally committed in the values of Swiss watchmaking craftsmanship of mechanical obedience and is a precursor in its concept that is to transcend the universal experiences and their immutable symbols.
Even in its graphic representation, the word KERBEDANZ reflects force and legitimacy, able to act with fantasy and inspires stability and reliability. An anchor form with curves reassuring and protective, points both the heaven and the earth by saying what is above is also on earth. 
Kerbedanz Maximus Limited Edition Worlds Biggest Tourbillon | Majordor Blog