Rattrapante Chronograph and Flyback Watches Movements Meaning
–
The RATTRAPANTE MEANING 
_ 
Rattrapante chronograph – also called: Split-seconds chronograph or Double chronograph
~
In fact, the word Rattrapante comes from a French word. Thus, better said it comes from the French verb "rattraper" meaning "split seconds". So, a Rattrapante Watch describes an additional complication within a chronograph. Of course, this means that we are able to time two intervals at a time. Moreover, a distinctive feature seen on any rattrapante chronograph watch represents the two sweeping seconds hands on its dial, stacked on top of each other until the split. 
Additionally, the second stop-watch hand is pulled along with the chronograph hand. So, this hand stops independently by pressing a button in order to measure lap times. After another push of a button, it bounces back under the chronograph hand to continue in conjunction with it. Hereby the measurement of other intermediate times becomes possible.
Notably, almost all Rattrapante chronographs are considered particularly valuable because of this demanding complication. Nevertheless, collectors and connoisseurs wish for certain vintage models. 
As an example, a rattrapante wristwatch, produced by Patek Philippe in 1922, was auctioned at Antiquorium on 14 November 1999 for US$ 1,918,387. In this case, represents also the highest price ever reached for a wristwatch at that time in an auction. 
~
Breitling Navitimer Rattrapante
–
As an example, at Baselworld 2017, Breitling wrote its latest chapter in its prestigious history of aviation-inspired chronograph watches. Hence, Breitling launched the new Navitimer Rattrapante. Nevertheless, this Luxury Watch features the brand's first in-house-made, split-seconds chronograph movement. In fact, the watch's movement – Breitling Caliber B03 – makes its first debut inside the case of the Navitimer, one of Breitling's most iconic models. In this case, Breitling continues its company's industry-influencing historical role in the field of mechanical chronographs.
Correspondingly, this includes milestones such as the first chronograph watch with an independent push-piece launched in 1915; the first with a second independent push-piece launched in 1934 and also one of the first self-winding chronograph movements launched in 1969.
Nevertheless, just as a reminder, the development of the classic Duograph in 1944 – a highly collectible piece with an extra-thin split-seconds chronograph movement – considered as this new model's spiritual ancestor.
Find out more also about our  Breitling Navitimer Rattrapante Collection Here or about our RATTRAPANTE & FLYBACK LUXURY WATCHES COLLECTION Here
Also, you can find Here The Top 10 Best Rattrapante Chronograph Watch for Collectors 
Rattrapante Chronograph and Flyback Watches Movements Meaning
~
The Double Rattrapante 
–
A double rattrapante – a chronograph watch with an extension of the usual rattrapante function. So, with rattrapante chronographs split time measurements, time comparisons, as well as minimum and also maximum time value measurements, perform as the usual ( normal ) functions of chronographs. But in conventional rattrapante chronographs, these functions become limited to the second's scale, which means exactly 60 seconds.
Here comes the double rattrapante mechanism, developed by A. Lange & Söhne and presented with the model Double Split. This watch comes equipped also with a counter of flyback minutes. With this new feature, now the use of the flyback functions up to a period of 30 minutes becomes possible and also really useful.
–
~
Nevertheless, we should continue in the same meaner with
THE TRIPLE-SPLIT – The ultimate chronograph from A. Lange & Söhne
–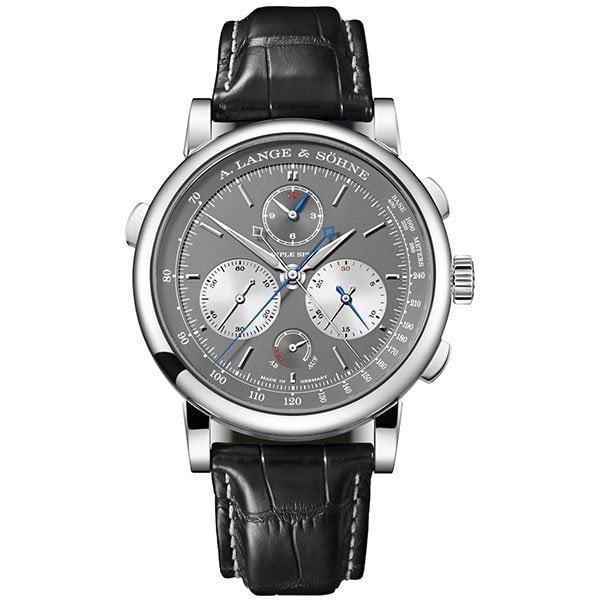 ~

–
In the first place, A. Lange & Söhne with its TRIPLE-SPLIT Watch introduces also a new dimension of measuring the time. This watch comes as the world's first mechanical split-seconds chronograph that allows multi-hour comparative time measurements. This becomes possible thanks to the triple rattrapante mechanism for seconds, minutes and also hours. So, this TRIPLE-SPLIT Watch can precisely measure and compare single and additive times. Also, it can measure an unlimited number of intermediate and reference times. Moreover, it can measure also two concurrently started events that last as long as twelve hours ‒ to an accuracy of one-sixth of a second.
You can find also more information about this watch Here
–
The Flyback Meaning 
–
Unlike the rattrapante or split-seconds chronograph, the flyback or mono rattrapante uses just one hand for lap timing. Conversely, the double rattrapante possesses split minutes and also seconds hands for timing longer than 60 seconds.
The flyback function, on the other hand, also known as 'Retour-en-vol' in French or  Back-in-flight in English, allow us to track multiple times in quick succession without having to reset it manually with another pusher.
So, a normal chronograph requires a start, a stop, a reset and then a restart.
But, the flyback reduces all the above actions down to one action. Once we start the timer, we simply have to press the pusher once more and the hand will jump back and start running again – all with the click of one button! Thus, the second chronograph pusher on these watches stops the stopwatch.
Of course, these two similar functions possess their own advantages over the other. The rattrapante allowing for simultaneous tracking of two-time frames, whereas the flyback can measure multiple intervals rapidly without the tedium of stopping and also restarting. Watches with a rattrapante complication tend to be pricier of the two, due to the more intricate mechanics required.
About BREGUET TYPE XX – XXI – XXII FLYBACK Here
~
Panerai Luminor 1950 Regatta 3 Days Chrono Flyback Titanio PAM00526 Watch
–
–
This watch's split-seconds chronograph function possesses a vertical clutch and twin column wheels. Although, it operates two hands that are superimposed and partially independent. The first hand becomes entirely controlled by the pusher at 8 o'clock, which starts, stops and resets the chronograph hand. But, the second hand, become controlled by the 10 o'clock pusher, used also for measuring partial times or a second event simultaneous with the first.
But, the hand of the small minutes counter moves in jumps, rather than continuously, which Panerai says it makes it easier to read. The movement that powers these mechanisms and the other functions of the watch is Panerai's P.2006. In fact, the movement was entirely developed and assembled in the Officine Panerai manufacture in Neuchâtel, Switzerland.
More information about OFFICINE PANERAI WATCHES Here 
Also, you can find more about Prices and Delivery for Panerai Luminor PAM00526 1950 REGATTA 3 Days Chrono Flyback Here 
---
Rattrapante Chronograph and Flyback Watches Movements Meaning