Description
Wolf Blake Single Men Women Luxury Watch Winder and Storage 
–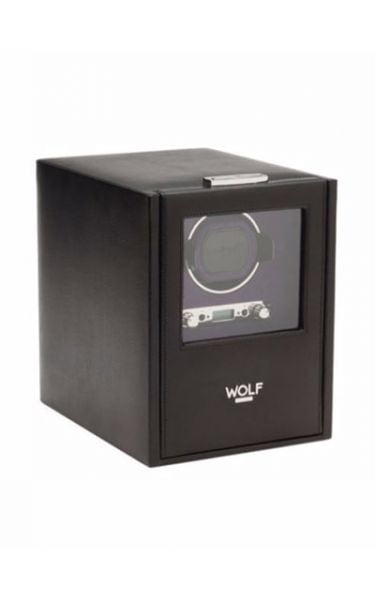 –
–
Wolf Blake Single Men Women Luxury Watch Winder and Storage 
Taking design, function and attention to detail to a new level, this single winder with storage is meticulously hand-crafted of brown Teju lizard embossed leather.
The hardware is chrome-plated and the lining is a rich brown ultra-suede.
Access to the winder is through a space saving rotating pocket door that is cleverly engineered to slide under the base of the winder and openly display the beauty of the timepiece, held securely in place with the WOLF patented lock-in cuff.
Additional space for three watches and accessories can be found inside an inconspicuous pull-out drawer.
Due to the slim profile of the drawer for mechanical watches please ensure that the strap or bracelet of the watch is closed tightly around the cuff, for larger bracelets, remove the cuff completely.
---
Details
Single watch winder in rich pebbled leather
8″W x 10.5″D x 10″H
Pebbled leather
Ultrasuede lining
Locking glass door
Pull-out drawer
Winds one watch
Powered by D-cell/lithium batteries (not included); can also run on AC power
Imported
Wolf Blake Single Men Women Luxury Watch Winder and Storage 
---
About Wolf
FIVE GENERATIONS OF PERFECTING A CRAFT
With each generation, strong traditions and ethics are passed down – instilling a sense of pride at the achievements this family led business has made.
From our 180 year history to our global brand recognition, WOLF has never waivered from its undying pursuit for perfection, luxury and elegance.
HANDMADE FOR A LIFETIME
We take pride in the meticulous care we take in the design and production of each WOLF piece.
LEADING THE WAY
Simon Philip Wolf's apprenticeship started early, barely out of his teens, his father, Philip Wolf IV guided him every step of the way, laying down a foundation of knowledge that had been passed to him by his father and that is invaluable to Simon who leads the company today with a clear vision and a desire to be the very best.
THE WOLF TEAM
A company is a reflection of the people who work for it. We are a multi-cultural, thoughtful, hardworking team, and family. Together, we make up the heart of WOLF's family business.
OUR HISTORY
With each generation, we become an even more unique company. Strong traditions and ethics passed down from one generation to the next. Instilling a sense of pride at the achievements we all have made in this family led business, a business that has become a family.
__
Special Thanks for all the above information to Wolf Official Website
---
All prices are subject to change without notice and we ( Majordor ) reserve the right to make changes as necessary to reflect the market conditions, our suppliers conditions and all other factors which are not under our direct control. Retail prices shown above, may represent the current replacement value of the item and are suggested as retail price, which may not reflect the selling prices. Price can vary according with the currency exchange rates and may be different than in store. Please check up your country and currencies for delivery. Wolf is a registered trademark of Wolf USA. Majordor is not an authorized dealer for Wolf and is in NO WAY affiliated with Wolf SA or Wolf USA. All Wolf Accessories sold through Majordor are in UNWORN condition.
---
Wolf Blake Single Men Women Luxury Watch Winder and Storage | Majordor Luxury Gifts