Description
Wolf Blake Double Automatic Watch Winder Box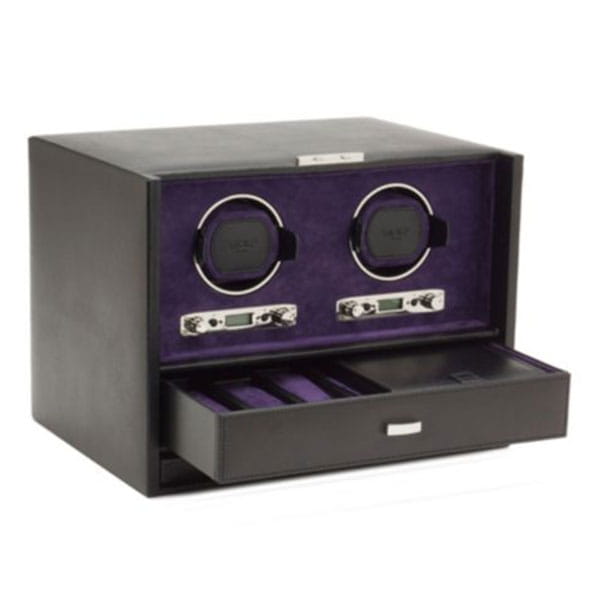 Wolf Blake Double Automatic Watch Winder Box
Nevertheless, keeping appointments becomes as important as looking good. Moreover, Viceroy's supple pebble finish exterior with gray textured silk faceplates speaks of refinement and functionality. Also creates watch winders that complement upscale brands such as Rolex, Omega, Tag Heuer, Breitling or IWC.
Therefore, protecting the objects that make you who you are and also enhance your lifestyle becomes a top priority. 
Of course, a sharp essential for any watch connoisseur, a three-piece winder comes also crafted with a sturdy wooden frame. Furthermore, features a distressed pebble faux leather exterior and also a textured silk faceplates – assurance to the adage that a gentleman is never late.
---
Details
Double watch winder in rich pebbled leather
13″W x 10.5″D x 10″H
Pebbled leather
Ultrasuede lining
Locking glass door
Pull-out drawer
Winds two watches
Powered by D-cell/lithium batteries (not included); can also run on AC power
Capable of completing 900 turns per day in three directions (clockwise, counterclockwise, or bi-directional). You can pre-program with pause and also sleep phases thanks to WOLF's patented rotation program. Also, the watch cuff was made to hold large, heavy watches for those with wrist sizes up to 10 inches. Moreover, with its sophisticated black faux leather exterior, chrome closure, and also tempered glass case, these winders will certainly look the part in the office, bedroom, or of course your lounge.
To find out more about Wolf Accessories follow this link: Wolf Accessories
---
About Wolf
FIVE GENERATIONS OF PERFECTING A CRAFT
With each generation, strong traditions and ethics are passed down – instilling a sense of pride at the achievements this family led business has made. From our 180 year history to our global brand recognition, WOLF has never wavered from its undying pursuit for perfection, luxury, and elegance.
HANDMADE FOR A LIFETIME
We take pride in the meticulous care we take in the design and production of each WOLF piece.
LEADING THE WAY
Simon Philip Wolf's apprenticeship started early, barely out of his teens, his father, Philip Wolf IV guided him every step of the way, laying down a foundation of knowledge that had been passed to him by his father and that is invaluable to Simon who leads the company today with a clear vision and a desire to be the very best.
THE WOLF TEAM
A company is a reflection of the people who work for it. We are a multi-cultural, thoughtful, hardworking team, and family. Together, we make up the heart of WOLF's family business.
HISTORY
With each generation, we become an even more unique company. Strong traditions and ethics passed down from one generation to the next. Instilling a sense of pride at the achievements we all have made in this family led business, a business that has become a family.
---
Nevertheless, all prices are subject to change without notice and we ( Majordor ) reserve the right to make changes as necessary to reflect the market conditions, our supplier's conditions and all other factors which are not under our direct control. Moreover, the retail prices shown above may represent the current replacement value of the item and are suggested as retail prices, which may not reflect the selling prices. Thus, prices can vary according to the currency exchange rates and may be different than in the store. So, please check up your country and currencies for delivery. In fact, Wolf  is a registered trademark of Wolf SA. Thus, Majordor is not yet an authorized dealer for Wolf and also in NO WAY affiliated with Wolf SA or Wolf USA. Equally important, all Wolf watches accessories sold through Majordor are delivered in UNWORN condition.
---
Wolf Exotic Triple Automatic Watch Winder Box | Majordor Luxury Gifts