Description
Piaget Possession Turquoise 18K Rose Gold Open Bangle G36PA200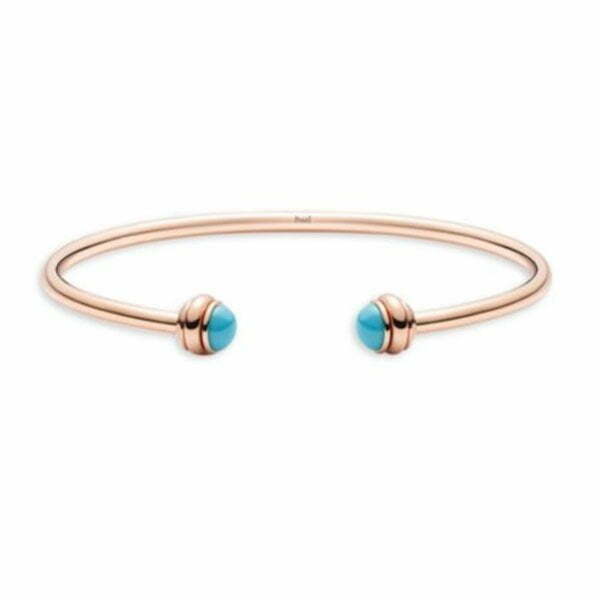 Piaget Possession Turquoise 18K Rose Gold Open Bangle G36PA200
Possession Bracelet collection
~
You are mine, I am yours
How far can the delectable game of possession be taken? Unashamedly modish, the Possession eccentric bracelet continues to toy with the concept of duality. Two rings and two colors, playing with asymmetry to imaginatively suggest the bond of love. The circle of diamond-set white gold becomes also larger. It provides even greater contrast with the warmth of the pink gold. Also, its feminine and sleek aesthetics become subtly imbued with a chic hint of rock 'n' roll.
Description
In the first place, this comes like an open bangle bracelet made in rose gold. Also, it comes decorated with two dazzling green malachite cabochons. A diamond-paved turning rings decorate the malachite stone. Moreover, with its glittering ornamental stones, this rose gold Piaget Possession open bangle bracelet become a playful, colorful companion. Of course, it represents femininity and also elegance to the extreme. Uniquely, this rose gold bracelet comes also adorned with an elegant round green malachite on either end.
Although a turning gold ring paved with dazzling diamonds brings out also the color of the stones.
Nevertheless, this energizing and also stimulating rose gold coupled with malachite symbolizes a world where anything becomes possible with a twist of a ring.
Dedicated to self-confident women. She can wear this bracelet alone or combined with other Possession open bangle bracelets. It will always express the multiple facets of their personality through the collection's many nuances.
*Piaget luxury watches and jewelry are individually produced and thus the weight and carats of each product can vary from the displayed data.
~
Type of jewelry: Open bangle bracelet
Metal: 18K Rose gold
Metal weight (gr): 10.57
Precious stones: Diamonds, 0.384 tcw
Semi-precious stones: Stabilised Turquoise
Motif size width: 9 mm

Slip-on style

Made in Italy
View more about Piaget Jewelry Collection following this link: Piaget Collection 
---
About Piaget
–
Georges Piaget founded the business back in 1874 in the village of La Côte-aux-Fées, Switzerland.  At that time, Georges Piaget – a farmer – built pocket watches for its neighbors, during the winter time just to get some extra money. But, in 1911, Timothée Piaget, the son of Georges, took over the family company and made the timepiece business a full-time endeavor. By that time, all watches were built by him for other companies, which those companies placed their own name on these timepieces.
After all, the founder's grandsons, Gérald and Valentin Piaget, registered the Piaget brand as a trademark in1943. In fact, since then, the manufacture at La Côte-aux-Fées produced only its own creations and also the family name became an international brand.
–
Piaget style
–
Nevertheless, the organic, almost psychedelic style that typifies Piaget jewels and also watches in the Sixties and Seventies become unparalleled in its creativity and skill. Furthermore, the fashion feel of the designs – unique use of colorful and also precious hardstones – inspired most stylish women of the time. At that time, Jacqueline Kennedy Onassis also embraced the Piaget look. One of the timepieces she favored was a 1965 gold, jade and diamond watch. Furthermore, Piaget's CEO, Philippe Léopold Metzger, revisit the period in the just-launched Extremely Piaget collection, including variations of the Onassis watch and also signature cuffs.
Ultra-thin movement and jewelry
Back in 1957, the Piaget manufacturer from La Côte-aux-Fées brought out on the market the Calibre 9P. It becomes the first ultra-thin (2 mm), hand-wound mechanical movement.
Also, in 1960, the Piaget watchmakers developed the Calibre12P.  This caliber, with its thinnest automatic movement in the world of 2.3 mm (made official by an entry in the Guinness Book of Records). Back in 1957, Piaget launched the Emperador men's watch and since its relaunch in 1999 become one of the brand's emblematic models. Additionally, Piaget started to create their first pieces of jewelry additionally to coin watches, ring watches, brooch watches, and also cuff-link watches.
Thus, the company's expansion led to the opening of a new factory in Geneva. The new factory was dedicated only to jewelry manufacture. Also, by the end of 1959, Piaget opens its first boutique. Also, in 2014, Piaget presented the Altiplano 900P, at 3.65 millimeters thickness – around 1/8th of an inch, In a short time this becomes the world's thinnest hand-wound mechanical watch.
Art of Enameling 
Nevertheless, Piaget continues the tradition of miniature painting thanks to its traditional and unique technique. In fact, the enameler begins by crushing and cleaning raw enamels to obtain a very fine powder. Also, Piaget mixed the powder with essential oils to achieve the color palette of its pieces of jewelry. 
Moreover, Piaget applies the enamel with a brush in successive fine layers and oven-fire them at temperatures exceeding 800 °C. Of course, each enameled piece requires nearly twenty firings in the oven. The enamel and its colors are then set forever. Piaget also owns the largest jewelry workshop in Geneva. Here, they cut every stone, adjusted them and also set them by hand. For this reason, the Piaget diamonds meet the highest standards of color (D to G) and clarity (IF to VVS.). Nevertheless, all Piaget diamonds come tested according to Piaget in-house guidelines. These standards are based on their color, size, clarity, and also carat.
Piaget Best Jeweller Prize
Eventually, in 2005, Piaget created their Best Jeweller Prize. In essence, this prize awarded to the most deserving student of the Certificat Fédéral de Capacité in watchmaking.
Piaget and Celebrities
Olivia Palermo, a fashion and style icon, collaborates with Piaget for the Possession jewelry collection. She presents turning rings, bangles, and also necklaces for Piaget. Moreover, the Piaget creations in rose gold and diamonds become now available with colorful ornamental stones such as red carnelian. 
---
Nevertheless, all prices are subject to change without notice and we ( Majordor ) reserve the right to make changes as necessary to reflect the market conditions, our supplier's conditions and all other factors which are not under our direct control. Moreover, the retail prices shown above may represent the current replacement value of the item and are suggested as retail prices, which may not reflect the selling prices. Thus, prices can vary according to the currency exchange rates and may be different than in the store. So, please check up your country and currencies for delivery. In fact, Piaget is a registered trademark of Piaget SA. Thus, Majordor is not yet an authorized dealer for Piaget and also in NO WAY affiliated with Piaget SA or Piaget USA. Equally important, all Piaget watches and Jewelry sold through Majordor are delivered in UNWORN condition.
---
Piaget Possession Turquoise 18K Rose Gold Open Bangle G36PA200 | Majord'Or Luxury Gifts | Jewelry