ROLEX 114200 34mm
ROLEX 114200 34mm 
~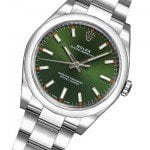 –
In fact, the Rolex Oyster Perpetual model steal remains Rolex's most recognizable watch. Overall, these Rolex 114200 watches come in five different sizes. 26mm, 31mm, 34mm, 36mm, and also 39mm. In fact, Rolex made that each size to possess its own set of dials. Smaller sizes for women and also larger ones for men. 
In our Onlineshop, you will find a Fine Collection of these Amazing Watches. Please Enjoy!
~
Visit our Collection Here and also The Rolex Oyster Perpetual 114200 34 mm Women's Watch Review Here
 These ROLEX 114200 34mm models come equipped with Rolex Calibre 3130. A self-winding mechanical movement entirely developed and also manufactured by Rolex.
–
6 Years Warranty Included or you can also choose for an extended warranty program. Silver: +3 Years. Gold: Lifetime. Platinum: Lifetime also with Yearly Ultrasonic Deep Cleaning.
~
All ROLEX OYSTER PERPETUAL watches are New and also Guaranteed Authentic. And come with Manufacturer Serial Numbers. Also, these watches possess Original Certificate of Authenticity, Manufacturer Box and Instruction Manual.
ROLEX 114200 34mm OYSTER PERPETUAL
Showing all 8 results