BREITLING NAVITIMER LUXURY WATCHES
Breitling Navitimer Luxury Watches Collection
~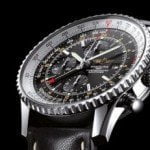 –
Breitling Navitimer Cosmonaute 43mm Mens Watch – Nevertheless, this watch comes with a special feature. The 24-hour scale which enables its wearer to read not only the exact time but also the time of day. In fact, the timing is extremely easy thanks to the chronograph function of this legendary wristwatch. Moreover, the stainless steel case radiates robustness and a thirst for adventure – living up to the spirit of the Navitimer Cosmonaute.
–
Breitling Navitimer GMT 48mm Mens Watch – This timepiece by Breitling is appropriate for all the people who tend to travel and to be in contact with people who live in other time zones. Moreover, this watch includes a GMT function that allows a simple and effortless display of time in the other time zone. The function is enabled with the use of a red-tipped GMT hand which rotates once every 24 hours.
–
Breitling Navitimer Chronomatic 1461 Limited Edition – In the middle of  1969, after creating the first self-winding ( Automatic ) movement, Breitling invented a range of chronographs named Chronomatic. In particular, all these Breitling watches has a 49 mm diameter case, positioning them in the extremely large watches category. Nevertheless, this 49 mm-diameter case, is reflecting that this watch it's a forerunner of extremely large watches. Moreover, the watch design, including the straight hands and the steel mesh bracelet, also reflect the style of the era when has been created.
---
Showing 1–16 of 44 results