Breitling 24/20mm Bracelets
Breitling 24/20mm Bracelets
~
Nevertheless, Breitling stainless steel bracelets become incredibly popular for adding some extra classiness to your wristwatch.
Moreover, the bracelets come available in several different sizes – 6″- 15.24 cm / 7″- 17.80 cm. Also comes with different options for links and also designs.
On the other side getting a stainless steel bracelet will provide the durability, reliability, as well as the shine and luster you need to wear your watch with style and grace!
BREITLING Genuine Replacement Bracelets Straps Collection
–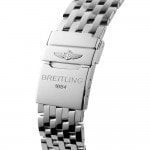 ~
~
Breitling 22/20mm and 22/18mm Steel Bracelets | Breitling | Luxury Watches
Showing all 7 results